According to records recently released by the Seattle Police Department (SPD), a detective working for SPD signed up for and used facial recognition app Clearview AI, which appears to be in violation of the City of Seattle's Surveillance Ordinance.
Clearview AI is a facial recognition startup which landed itself in the midst of controversy in early 2020 when it was revealed that the company created an app which advertised the ability to match uploaded images to billions of pictures scraped from the internet and social media websites. Journalists also found well-documented ties between the startup's founder Hoan Ton-That and far-right figures like Chuck Johnson and Mike Cernovich.
Released emails indicate that Nick Kartes, a detective on the South Precinct Burglary unit according to a staff roster obtained this summer, signed up for Clearview in September 2019 using his "@seattle.gov" work email address.
We can see through notifications sent by the service that he logged into the service over 30 times, as recently as April 22, 2020. Running WHOIS queries on IP addresses listed in these emails reveals that the devices used to log into Detective Kartes' account were connected to the City of Seattle network.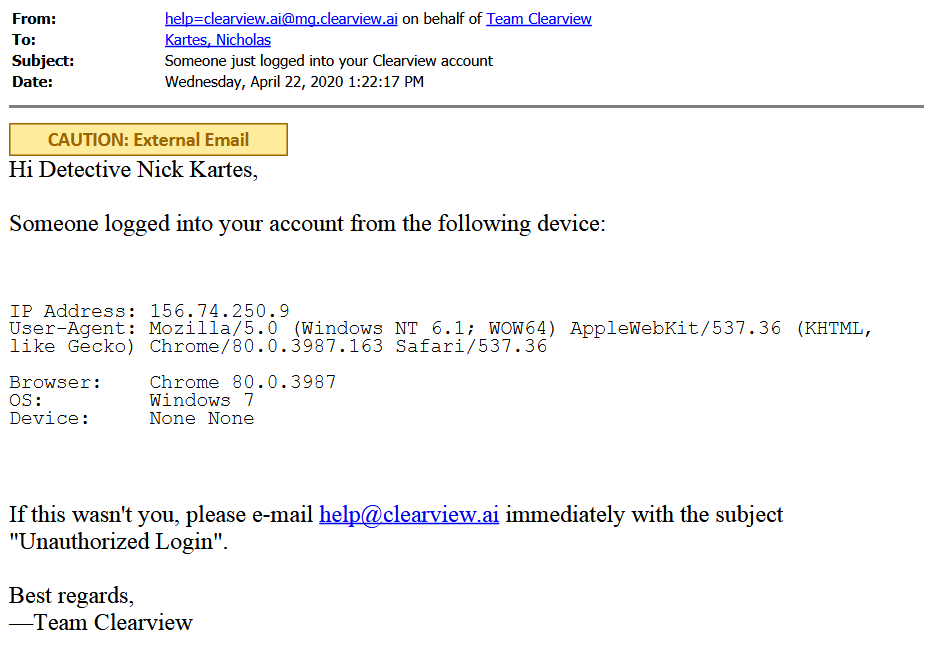 In September 2019, Detective Kartes reached out to the company to request a phone call for assurances about the "security of the company and program" before advocating for the product among his "many connections in the Northwest region". He proudly admits that he downloaded the app to his phone and "[did] some experimenting with it", indicating that his searches were met with "great success". From the emails, it is not clear whether his "experimenting" involved any active SPD investigations, but we can see that he used Clearview on the City network with an account associated with a City email address.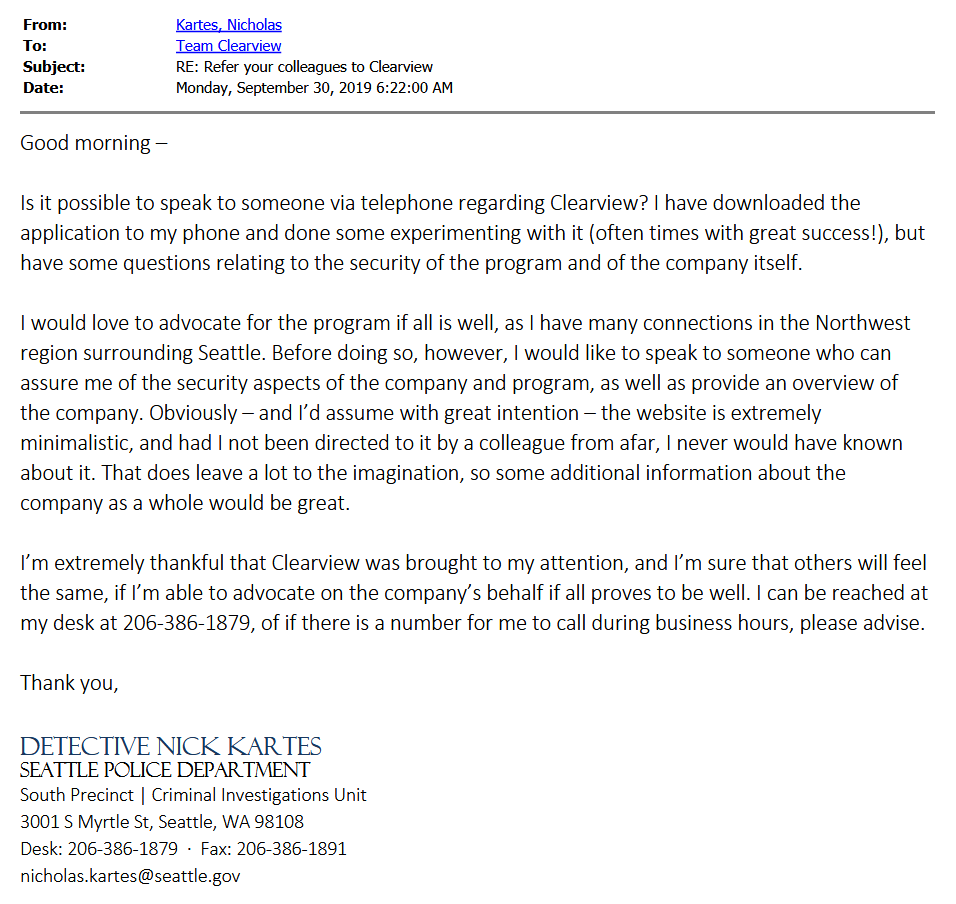 Regardless, Clearview AI clearly fits the criteria for "surveillance technology", where "surveillance" is defined in the ordinance as "to observe or analyze the movements, behavior, or actions of identifiable individuals in a manner that is reasonably likely to raise concerns about civil liberties, freedom of speech or association, racial equity or social justice."
As such, the SPD is expected to have gone through the process outlined in the ordinance before acquiring and deploying such technology. The process involves getting City Council approval, filling out a Surveillance Impact Report (SIR), and conducting community outreach. No SIR for Clearview AI is listed on the Surveillance Ordinance website and a quick search did not turn up City Council approval or community outreach attempts by SPD.
This follows an established pattern, highlighted this summer, where Seattle police regularly flaunt the law. The South Seattle Emerald reported that cops including Seattle Police Officer Guild chief Mike Solan listed their voter registration address as the police precinct, a violation of both election law and their own police manual ("Employees Shall Not Use a Department Mailing Address for Personal Reasons"). It is worth noting that Detective Kartes himself has a sustained OPA allegation for "Video and Audio Recording" from 2016, although the Closed Case Summary is not listed on the OPA website.
As they say, who watches the watchers?